Latest Content
Conference
Chart of the Week
Fathom's CMI
Conference
Fathom Q3 Economic and Markets Outlook
BREXIT Wounds
Is Brexit fundamentally a UK story implying modest short-term economic costs; or is it part of an on-going process of global fragmentation that could be profoundly damaging in the long term for everyone? Who will be hurt by Brexit, and how badly?
Panelists:
Sir Charles Bean
Charles Goodhart
We will debate the post-Brexit outlook for the UK and global economy this year and beyond. Register here to attend. 2 August 2016.
Chart of the Week
A number of prominent Brexiteers have suggested that the FTSE 100's outperformance against other major international equity indices is an endorsement by investors about the outlook for the UK economy. A more sobering explanation is the fact that firms listed on the FTSE 100 derive most of their earnings from outside the UK.
Fathom's CMI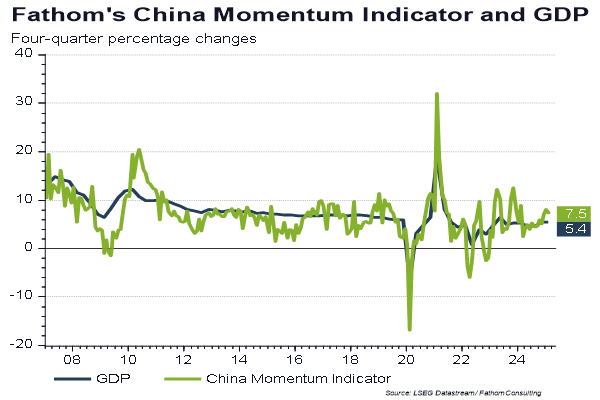 Fathom's China Momentum Indicator (CMI), stood at 2.4% in the twelve months to May. 0.2 percentage points above January's record low – the point at which China's dramatic slowdown seems to have bottomed out.
Log in to read the full research note.
Research & comment
Newsletters
Media interviews
@fathomcomment
Newsletters
Flash PMIs for the UK were published for the first time today.
The composite PMI measure fell to …
Today's existing homes sales data provided more evidence that Americans are growing increasingly confident about their economic …
Despite reiterating that the ECB stands ready, willing and able to act, the ECB's Governing Council left …
Media interviews
How Can Carney Calm Brexit-Shaken Britain? (Bloomberg TV)
@fathomcomment
Read the full blog
This Bank of England published this week a working paper that analysed the consequences of …
While many of us in the UK have been struggling to understand the consequences of …
A number of prominent Brexiteers have suggested that the FTSE 100's outperformance against other major …